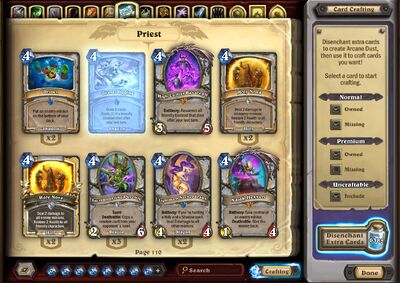 The crafting system is an element of Hearthstone that allows players to directly create new cards. It can be accessed through the My Collection screen.
Crafting consumes Arcane Dust to produce new cards, while disenchanting allows players to destroy unwanted cards, granting a quantity of Arcane Dust in exchange. Crafting is the quickest and most direct way of obtaining a specific card, provided you have sufficient Dust.
The amount of Arcane Dust required for crafting, and granted by disenchanting, is determined by the card's rarity. Golden cards also cost several times more Dust to craft, and reward several times more for disenchanting.
Disenchanting a card is often referred to as dusting the card, since the card is effectively converted into Dust.
Craftable cards
Cost
Details
Use
Mass Disenchant
Card changes
History
Trivia
Gallery
Patch changes
References