Boomnician Breena
Boomnician Breena
The fuse is lit. Heal to full Health before it's too late.
Boomnician Breena is the first boss of the Survival lab in the Puzzle Lab.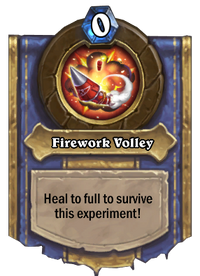 Before match
Boommaster Flark

Come one, come all, to the spectacular Boomatorium!
Introduction
Boomnician Breena

Are you the new test subject? I will light the fuse!
Emote Response
Boomnician Breena

I am having a blast. You?
Looks like you have got an explosive personality yourself! Hmmhmmhmmhmm.
Idle
Boomnician Breena

Could we strap some fireworks to that minion?
How does Flark add all those colors?
Think you could… outrun it?
This is a tough one… Glad I am not taking the hit!
What happens if I light this fuse...
What if I double the gunpowder...
Restart
Boomnician Breena

All it takes is a spark.
If at first you do not succeed...
If it went boom in your face right now... yeah... let us restart.
Let us give it another go.
That did not work? Hmmm...
Would it hurt to try again?
Puzzle 1
Boommaster Flark

We're testing out some fireworks in here. On your face. Try and survive, yeah?

Boomnician Breena

Ohooho! This is going be such fun!
Puzzle 2
Boommaster Flark

It'd be no fun if you were at full health. We need to keep things exciting!
Puzzle 3
Boommaster Flark

You never know when some of these minions might come in handy.
Puzzle 4
Boommaster Flark

Don't worry we'll try not to fire them off before you're ready.
Puzzle 7
Boomnician Breena

I always enjoy patching myself up after a long day at work!
Return after leaving
Boomnician Breena

You came back for more!
Completion
Boommaster Flark

Hey you did it! Next in line, ME.