As part of the Unified Community Platform project, this wiki and 38 others will be migrated to the new platform in the next few weeks. Minimal changes are expected as part of this migration. Read more here.
Blood To Ichor
Blood To Ichor
Deal 1 damage to a minion. If it survives, summon a 2/2 Slime.
For his next trick, he turns the ichor back to blood and stuffs it back in you.
Blood To Ichor is a rare warrior spell card, from the Whispers of the Old Gods set.
Blood To Ichor can be obtained through Whispers of the Old Gods card packs, or through crafting.
| Card | Crafting cost | Disenchanting |
| --- | --- | --- |
| Blood To Ichor | 100 | 20 |
| Golden Blood To Ichor | 800 | 100 |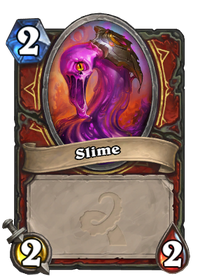 This spell has two steps:

First it deals damage, queuing and resolving all on-damage triggers;
Then, if its condition is satisfied, it summons a Slime, queuing and resolving triggers. Notice that minions that have been set pending destroy, such as by Acidmaw, are considered to be dying, and the condition will thus not be satisfied.[1]
You can use this card as a set up for Execute, or to trigger Acolyte of Pain. Compared to Ironforge Rifleman, this spell costs 2 less mana, so it is way more efficient.