Blistering Rot
Blistering Rot
At the end of your turn, summon a Rot with stats equal to this minion's.
Known as 'Fel Gel' to the Illidari, it's excellent protection against harsh Draenic sunshine.
Blistering Rot is a rare neutral minion card, from the Ashes of Outland set.
Blistering Rot can be obtained through Ashes of Outland card packs, through crafting, or as an Arena reward. Regular Blistering Rot can also be obtained through the Highest Rank Bonus chest at the end of a Ranked season.
| Card | Crafting cost | Disenchanting |
| --- | --- | --- |
| Blistering Rot | 100 | 20 |
| Golden Blistering Rot | 800 | 100 |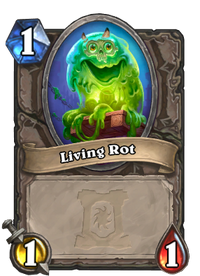 The summoned Living Rot has white stats, meaning that these stats are its base stats.
At the end of the first turn, Blistering Rot is identical to a 3 mana Echoing Ooze. However, if the minion survives, it will continue to summon Living Rots each turn. With even a small buff on the Blistering Rot, this can provide a large amount of value over time.
This minion is also similar to Shrieking Shroom. The Shroom has more highroll potential and doesn't rely on buff cards, but Blistering Rot provides more synergy.
From Wowpedia:
Blistering Rots are oozes found in Hellfire Peninsula. They are spawned by Aggonar's fel-tainted life-energy.