Beckoner of Evil
Beckoner of Evil
Battlecry: Give your C'Thun +2/+2 (wherever it is).
Here, Evil! C'mon boy!
Beckoner of Evil is a common neutral minion card, from the Whispers of the Old Gods set.
Two copies of regular Beckoner of Evil are obtained by owning a Whispers of the Old Gods pack and going to Open Packs menu. Regular Beckoner of Evil uncraftable and cannot be crafted or disenchanted.
Golden Beckoner of Evil can be obtained through crafting only. [1][2][3][4]
| Card | Crafting cost | Disenchanting |
| --- | --- | --- |
| Golden Beckoner of Evil | 400 | 50 |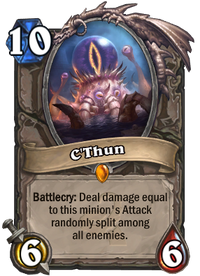 One of the cheapest C'Thun-buffing minions. Playing this at turn 2 (or turn 1 with The Coin) is generally a good idea.
Summon

Are you my master?
Attack

This way.
Some people just want to watch the world burn . . . or at least watch it get horribly corrupted by ancient entities from beyond time. There's a phrase for people like that: "Pssst. Hey, Evil, come'ere for a sec."
The Beckoner of Evil is a cultist who just can't wait to break C'Thun out of prison, and she's doing her part to bring that day ever nearer.[8]
Beckoner of Evil is most likely married, as shown by the ring on her left hand (the one near the head of the staff she is holding).