Beastly Beauty
Beastly Beauty
Rush
After this attacks a minion and survives, transform this into an 8/8.
For the treasure card in Solo Adventures, see Beastly Beauty (boss).
Beastly Beauty is an uncollectible neutral minion card. It is also a pool 1 active treasure in Duels.
Beastly Beauty can be drafted and added to a Duels deck after rounds 3, 9 and 13.
Beastly Beauty is uncollectible and unavailable in any Constructed or Arena game.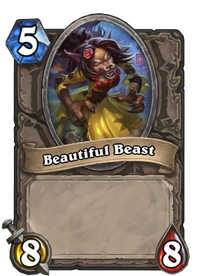 Please add any available information to this section.
Summon

You're not a monster.


Attack

I'm a monster!