Awaken the Flame
Awaken the Flame
Hero Power
Imbue a Sanctum Golem
with the power of fire.
Awaken the Flame is a boss Hero Power used in the Tombs of Terror adventure. In Heroic mode, there is a hidden enchantment that sets this Hero Power's base cost to 0.
For more information, see Tekahn, Plague Lord of Flame.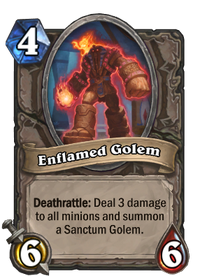 When transformed, Enflamed Golem will copy all enchantments, current stats and damaged status from its targeted Sanctum Golem.

For example, a 6/3 damaged Sanctum Golem is transformed into a 6/3 damaged Enflamed Golem when targeted by this Hero Power.