All
All is a type of minion, that contains all minion types: Elemental, Mech, Demon, Murloc, Dragon, Beast, Pirate and Totem.
All-type minions can be found from random effects and Discover options that cover any specific type. For example, Nightmare Amalgam can be created by Murloc Knight or Discovered by Tomb Spider.
All-type minions can have multiple type synergies for various types active at the same time.
All-type minions are vulnerable to all type-specific destruction effects.
Currently there is only one collectible All-type card, which is Nightmare Amalgam, viewed below.
Strategy
[
edit
]
All-type minions are fairly generic, but compensate with extreme splash-ability. They can be used as filler for any type-themed deck. They can be drawn with specific searches like Sense Demons and Ice Fishing even if your deck isn't using that type.
All-type cards
[
edit
]
Collectible
[
edit
]
Wild format
 This section contains information exclusive to Wild format.
Name

/ Desc

Rarity
Subtype
Class
Cost
Atk
HP
Description
Nightmare Amalgam
Epic
All
Any
3
3
4

This is an Elemental, Mech, Demon, Murloc, Dragon, Beast, Pirate and Totem. Be all that you can be.

Showing the only card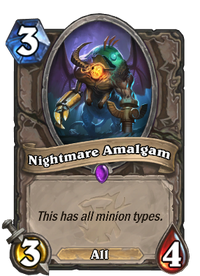 Uncollectible
[
edit
]
Name

/ Desc

Rarity
Subtype
Class
Cost
Atk
HP
Description
Amalgam
None
All
Any
1
1
1

This is an Elemental, Mech, Demon, Murloc, Dragon, Beast, Pirate and Totem. 

Showing the only card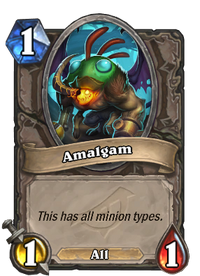 Patch changes
[
edit
]