Aldor Attendant
Aldor Attendant
Battlecry: Reduce the Cost of your Librams by (1) this game.
Will check to make sure you have a valid libramary card.
Aldor Attendant is a common paladin minion card, from the Ashes of Outland set.
Aldor Attendant can be obtained through Ashes of Outland card packs, through crafting, or as an Arena reward.
| Card | Crafting cost | Disenchanting |
| --- | --- | --- |
| Aldor Attendant | 40 | 5 |
| Golden Aldor Attendant | 400 | 50 |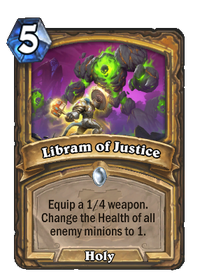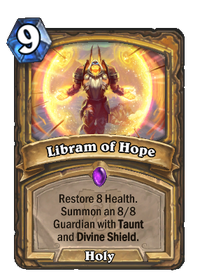 Aldor Attendant provides a game-long buff for a subset of spells. However, the true potential of Aldor Attendant is being a 1 mana 1/3, a very solid body to survive more than one turn, which makes it the perfect target for turn 2 buffing cards, such as Hand of A'dal and Libram of Wisdom.
If you're going to play the entire Libram package, you can also use Aldor Truthseeker for more mana reduction.
Summon

I cannot wait to read these.


Attack

Read this!

From Wowpedia:
An ancient order of draenei priests once run by Velen, the Aldor are currently led by High Priestess Ishanah. They are servants of the naaru in Shattrath City known as the Sha'tar. Rivals of the Scryers.